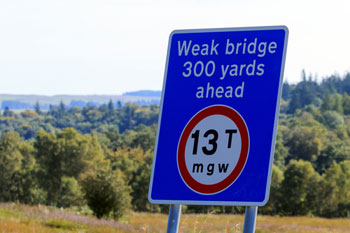 The one-off cost of clearing the total maintenance backlog for all council-managed road bridges in Britain has increased by a third.
Analysis by the RAC Foundation for the 2016-17 period found that it would cost £5bn to fix all of the 72,000 council road bridges in Britain.
A more recent study by the RAC, looking at data for the 2017-18 financial year, has revealed that this figure has increased to £6.7bn.
The data is drawn from 200 councils which between them manage 71,652 bridges.
An estimated 4.4% of these bridges are categorised as 'substandard', which means they are unable to carry the heaviest vehicles now seen on the roads, including lorries of up to 44 tonnes.
Cllr Martin Tett, transport spokesman for the Local Government Association, said that the RAC survey underlines the 'chronic need' for more investment in existing local roads.
'The Government is spending 52 times more on maintaining our national roads – which make up just 3% of all roads – than on local roads, which are controlled by councils and make up 97% of England's road network,' he said.
'While the extra one-off £420m funding announced in the Budget will help, only long-term, consistent and fairer government investment in local road maintenance can allow councils to embark on the widespread improvement of our roads and bridges that is desperately needed.'