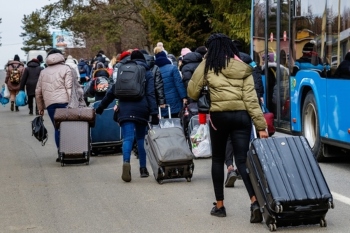 Councils needs more advice and guidance from the Government in order to make the 'Homes for Ukraine' scheme work, the chair of the Levelling-Up Committee has warned.
Clive Betts has written to the Government calling for more clarity on what financial support and guidance will be available to local authorities to help support Ukrainian refugees.
The Levelling Up, Housing and Communities (LUHC) Committee has been calling for further information on a range of issues such as school places, and the administration and co-ordination of the scheme.
Mr Betts said: 'It is concerning to hear that there are a series of areas where Government is not currently coming forward with enough advice, guidance and co-ordination to help local councils provide the care and support which Ukrainian refugees need.
'We recognise the demands on the Department with the workload in handling the 'Homes for Ukraine' scheme but the Government needs to up its game on consulting and co-ordinating with local councils so they can provide the support to Ukrainian refugees on the ground and make the scheme work in practice.
'At the moment it seems unlikely that the full wraparound service that the Government has committed to will be available to those refugees who are arriving in the UK now.'