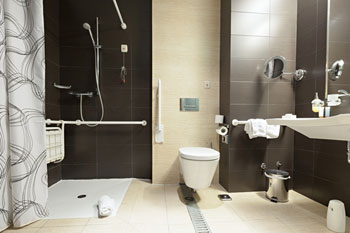 The process by which local authorities provide support to people with mobility issues is too 'complex and varied', elderly persons charity warns.
A new study from the Centre for Ageing Better found that over 90% of older people are living in ordinary homes rather than specialist housing that has been adapted to aid mobility.
The report, which is based on interviews carried out by Northumbria University, found that many individuals who struggled to move around their homes only made the necessary adaptations after an accident.
Respondents told the researchers they found the clinical appearance of equipment, such as handrails and ramps, to be 'off-putting'. They associated them with ageing and vulnerability
They also said they struggled to make sense of the process by which they can access local government support for help with adaptations.
This, combined with understaffing, results in funding 'bottlenecks' and long waiting lists which, in turn, drive people to 'go it alone' and buy inferior products, according to the study.
'Our research captured a range of older people's experiences of when, how, and why they had their homes adapted,' said Cathy Bailey, associate professor in Nursing Midwifery & Health at Northumbria University.
'Getting to this end point was not always easy. Some people were making this decision following a crisis such as a hospital stay, a fall or, a change in health status.
'There were also difficulties with getting up-to-date information, or finding out how long the process might take or the status of their financial and health-related eligibility.
'Overall, our participants told us that home adaptations are a good thing and this is supported by international evidence. However it's not just about installing home adaptations.
'We need to simplify the process to ensure a flexible and timely response. From within our ageing population there is also an urgent need for positive messaging about home adaptations.'
Responding to the report, Cllr Izzi Seccombe, chairman of the Local Government Association's (LGA) Community Wellbeing Board, said: 'Councils are working hard to provide housing adaptations and mobility aids which are vital to help keep people safe and independent in their homes and prevent avoidable admissions to hospital and care homes.
'To help address requests for home adaptations the Disabled Facilities Grant needs to be fully funded to keep pace with demand.
'Government also needs to plug the £3.5bn funding gap facing adult social care by 2025 and reverse the £600m in reductions to councils' public health grants between 2015/16 and 2019/20.
'There is a shortage of homes suitable for older and disabled people and people in vulnerable circumstances. To help address this councils need to be given greater planning powers and resources to hold developers to account, ensuring that they build the right homes in the right places needed by different groups within the local community.'