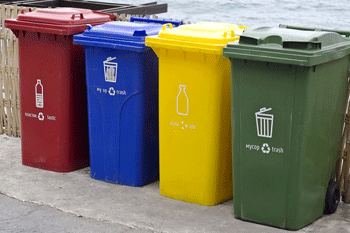 At least 24 councils in England have removed and analysed the contents of rubbish bins without telling residents, according to a freedom of information request.
The investigation, carried out by the Sunday Express, found 24 local authorities have used consultants to carry out a detailed analysis into how much waste is being put in the wrong containers.
The councils said the surveys had revealed huge amounts of waste being thrown into the wrong bins and hoped the information would help them improve recycling rates.
A spokesman for the Local Government Association said: 'Helping people to understand better what they can and can't recycle is vital if councils are to spend less on rubbish and more on things like caring for old people and fixing potholes.
'Getting a clear picture of householders' bin habits can be an important step in giving people better bin collections.'