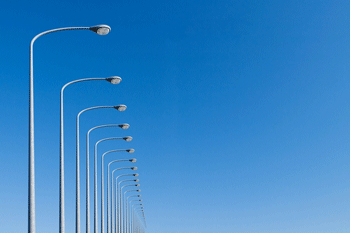 Financial budgets within the UK public sector have created challenges for local authorities in recent years. However, as we move into the second half of 2016, councils across the UK are continuing to consider ways to strengthen their position.
One way organisations are rising to this challenge is by taking steps to improve their operations, with energy efficiency being a clear winner that can lead to considerable financial and carbon savings.
There are approximately 7.1 million streetlights in public ownership in the UK, some of which use more traditional discharge lighting technologies, such as high pressure sodium. Opting for more energy efficient lighting, such as Light Emitting Diode (LED), has been recognised as an effective way to tackle street lighting without affecting the high-quality services that the public expect.
Due to the upfront costs involved with such projects, a large number of councils are tackling this with the support of an interest-free government loan. This funding is available via groups such as Salix Finance to public sector organisations that wish to pursue energy efficiency upgrades, including improvements to street lighting.
An example of a project of this nature was undertaken by Bournemouth Borough Council.
The council completed a transformational street lighting upgrade, utilising a £4.2m interest free loan from Salix. The council have upgraded over 16,000 sodium street lights to energy efficient LED luminaires which is expected to reduce their energy bill by 72%.
The replacements included the lamp, control gear, photocell, and reflectors. Together with de-illumination of signs and bollards, the project is predicted to save over £871,000 annually.
Over the lifetime of the project, the upgrades are estimated to save the council an estimated £17m. Bournemouth Borough Council will pay their Salix Finance loan back over a period of four years from the resultant savings of the project.
As part of their street lighting upgrade programme, Bournemouth Council also replaced 1,000 street lighting columns at their own cost. This new lighting stock also commits to Bournemouth's objective to deliver a modern and safe town for residents, businesses and visitors to enjoy.
Local councils have a diverse portfolio of properties in their estates and many have already prioritised energy management to great effect. One of the ways to benefit from using less energy is a review of street lighting stock, as this makes up a high proportion of overall energy costs.
The public sector is recognised as a key element in delivering the UK's Climate Change Programme and their engagement is essential to achieving carbon reduction commitments.
Although the public sector emits a relatively small proportion of UK emissions, public bodies have the opportunity to demonstrate a clear leadership role by influencing a reduction in carbon emissions.
This piece was authored by Salix Finance.