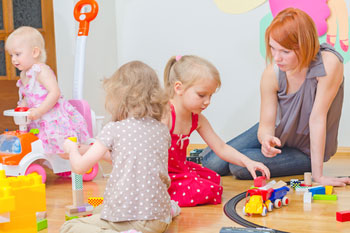 The majority of local authorities do not have enough childcare to meet demand in school holidays, a new survey has found.
The annual Holiday Childcare Survey, published by the Family and Childcare Trust, reveals the gaps in holidays childcare provision has increased 'significantly', with 87% of local authorities in England and 95% in Wales not having enough to meet demand
There are 45 local authorities across the country which have 'severe' shortages of childcare, the research also found.
'These are worrying findings at a time when the Government is pushing through its ambitious and welcome plans to make childcare more affordable for parents,' said Stephen Dunmore, chief executive at the Family and Childcare Trust. 'It is time for action on the Cinderella service that is holiday childcare, otherwise many parents will struggle to hold down a job or find their summer plans in tatters.
'Local authorities must be supported in their market management to stop the decline in childcare places so that all parents have the access to childcare that they so desperately need.'
The report calls on local authorities to produce online information about holiday clubs and activities for parents, and for funding support for providers to help with start-up costs.