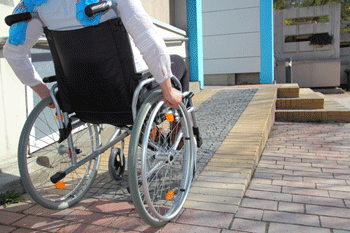 Only 3% of councils in England outside of London have plans in place to deliver and monitor the number of accessible homes built in their area, new research has revealed.
A freedom of information request by Habinteg shows that only a handful of councils require developers to build homes to the accessible Lifetime Homes standard. The majority are also failing to collect data on how many homes have been built to this standard in the last six years.
London councils have been required to ensure all new homes are built to the Lifetime Homes standard since 2004, with 10% of new homes needing to meet higher wheelchair accessible standards. However, even when London boroughs are included in this research, only 8.2% of council have 'robust' accessible housing plans.
The housing association warns that with just 7% of homes in England being fully accessible, councils should make addressing the accessible housing deficit a priority.
Habinteg chief executive Paul Gamble said: 'It's time that all local authorities follow London's lead to meet the inclusive housing needs of local people. With many councils yet to formalise their local plans ahead of next year's deadline, there's a clear opportunity to address the significant shortage of accessible homes to rent and buy nationwide and meet projected demand.
'The Government has rightly placed enhanced accessible housing standards into the building regulations for the first time but unfortunately the default is inadequate for many disabled people. While the higher standards remain purely optional, levels of inaccessible housing could rise as the population ages.'
Lifetime Homes incorporate sixteen Design Criteria that make them accessible and easily adaptable.