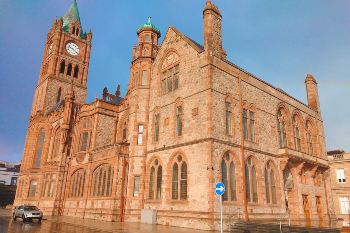 Councils have closed, events and meetings have been cancelled and some politicians are in self-isolation in a bid to stem the spreading of the coronavirus pandemic.
Derry City & Strabane DC has closed all of its buildings and a number of facilities.
The closures, which will last for an initial two-week period, include offices, leisure facilities, community centres, a museum, theatre and sports pitches.
Forthcoming events including the City of Derry Jazz Festival are also to be cancelled.
Mayor Cllr Michaela Boyle said: 'The decision to close all council facilities to the public and to cancel some of our key events was not taken lightly, but it was unanimously agreed that they are the right decision in the interests of the safety of the public.
'The council has a duty of care to its staff and the public, and this is a very responsible and proactive approach to this situation.'
The move follows the closure of East Devon DC's offices to the public after a member of staff was identified as possibly having coronavirus.
Growing numbers of councils are also cancelling meetings while the Association Of Democratic Services Officers has issued guidance that members should sit further apart.
Sedgemoor DC has cancelled meetings and gatherings 'until further notice' and North East Lincolnshire Council's full council meeting on Thursday has been called off.
Isle of Wight Council cancelled its health and care scrutiny panel meeting to free staff to focus on tackling coronavirus.
Committee chair Cllr John Nicholson said: 'In consultation with health partners it was deemed more important to allow them to focus on the delivery of services and emergency planning than attending a meeting at County Hall.'
The Government is looking at amending rules that prohibit councillors taking part in meetings remotely via video-conferencing in response to the crisis.
Leicestershire CC leader, Cllr Nick Rushton, and Central Bedfordshire Council leader and chairman of the Local Government Association, Cllr James Jamieson, are in self-isolation.
Dundee City Council leader Cllr John Alexander reversed a decision to self-isolate following family members showing possible symptoms, but has said he will remain at home to care for them.
Sandwell MBC has announced it will not take any court action for debt against residents during the pandemic.