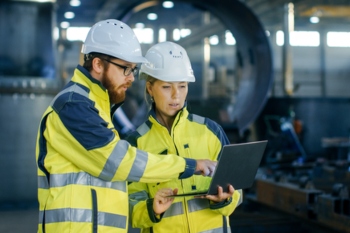 Local authorities should create skills programmes to train workers in their areas as part of the effort to tackle the UK's engineering skills shortages, a new report argues.
Published by the Institution of Engineering and Technology (IET), the report warns that the UK economy suffers a loss of £1.5bn per year due to Science, Technology, Engineering and Maths (STEM) skills shortages.
It also says that, as well as representing a loss of national income, the skills shortage impacts on young people and adults who lose out on learning new skills, working in more skilled employment, and potentially pioneering new technologies.
'The IET evidences that 60% of members felt they were unable to deliver the objectives set in the Industrial Strategy due to acute skill shortages,' said Darren Capes, chair of the IET's Transport Policy Panel.
'It's clear that the rapid rate of technological innovation requires people to continually update their skills in order to be equipped for new roles influenced by technology.
'In order to solve the skills crisis it is upon all of us in industry, academia and Government to work together to ensure every person can reach their full potential by equipping them with access to relevant training, good quality careers advice and providing relevant and beneficial work experience.'
He added: 'Local authorities have an important role to play on a regional level including encouraging a diverse mix of people into the engineering profession through locally targeted schemes, and working with local education providers to coordinate more training for teachers in the areas of computing and engineering.'
The report recommends that the UK Government ensures funding is allocated for the quality of training available, not student quotas, a national programme to upskill those already in engineering roles as well as making it easier for small-to-medium enterprises (SMEs) and start-ups to hire and train work experience students.