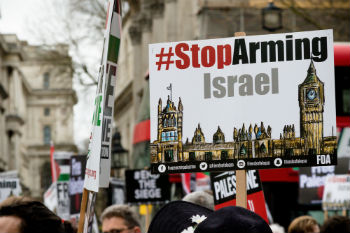 The Court of Appeal has ruled that Leicester City Council's decision to boycott illegal Israeli settlements is both 'temperate and legitimate'.
The city council passed a motion in 2014 agreeing to boycott goods produced by Israeli settlements in the occupied West Bank, saying it opposed 'continuing illegal occupation' of Palestinian territory.
Jewish Human Rights Watch (JHRW), an organisation established to fight what it describes as 'anti-Jewish boycotts', initiated legal action against Leicester CC claiming the boycott went against the Public Sector Equality Duty and procurement rules.
This was subsequently dismissed by the High Court and an appeal was thrown out by the Court of Appeal on Tuesday.
The lead judgement, delivered by Lord Justice Sales, states: 'The motion itself recognised the right of the State of Israel to exist in peace and free from incursion, and was concerned only to condemn certain actions of the government of Israel.
'The condemnation was in line with a respectable body of opinion, including the UK government, the United Nations, General Assembly, the European Union and the International Court of Justice. The criticism made was temperate and legitimate.'
It also noted that such judgements were a 'well-known gesture of political solidarity with oppressed groups overseas, as illustrated by calls for boycotts of goods from South Africa during the apartheid era.'
Kamal Adatia, Leicester City Council's barrister, commented: 'The High Court originally dismissed the claims of discrimination made by this group back in June 2016, and now the Court of Appeal has emphatically thrown out their appeal.
'The ruling totally endorses Leicester's approach to handling this motion, and has made no change whatsoever to the way in which councils can pass such motions in future.
'The judgement is a landmark – not for organisations like JHRW – but for all local councils. It recognises their fundamental right to pass motions of this nature and makes it clear that they can, like Leicester, fully comply with their equality duties when doing so.'
A spokesman for JHRW said: 'Whilst the appeal was rejected, the ruling has made a number of very important changes to the law which are a much bigger victory.
'The ruling brings a vital change in the law to the way in which councils can propose and discuss these controversial boycott motions.'
'In future councils will not be able to hide behind the unpleasant excuse that because a motion is non-binding that there is no need to consider its statutory equality duty to work to eliminate discrimination, harassment and victimisation,' the spokesperson continued.
'Leicester council also argued that to apply the public sector equality duty to its debate on this would infringe the freedom of speech of councillors. The court roundly rejected this argument.
'It is clear that councillors now have to fully understand the duty on the council before making statements in any future debate.'
For more on this topic check out our feature, 'Banning Boycotts—Is history repeating itself?'
Image: Ben Gingell / Shutterstock.com.