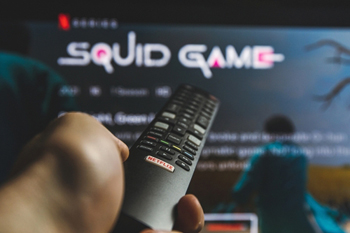 Central Bedfordshire Council is advising parents not to let their children watch the hit programme Squid Game after primary aged children were caught mimicking aggressive aspects of the series.
The popular South Korean programme, which can been found on Netflix, is rated appropriate for viewers aged 15 and older due to scenes containing sex, violence and suicide.
According to a spokesperson for Central Bedfordshire Council, the local authority's Education Safeguarding Team was made aware that some primary aged children in one of the local schools were 'behaving aggressively' on the playground while replicating games from the TV series.
The team concluded that the children had seen social media clips of the programme and responded by sharing information with the school on parental settings and other resources to help protect children online.
'Our safeguarding team regularly send out briefings on safeguarding matters to schools as they are made aware of them,' said the council spokesperson.
'With social media concerns, these are sent out as soon as possible so that schools are aware of potentially dangerous material, to enable them to share advice with parents.'