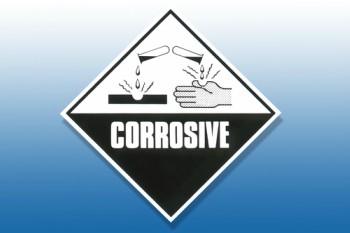 Hackney LBC has urged shopkeepers to stop selling the dangerous products like acid and ammonia to young people after a spate of violent attacks in the capital.
The London borough launched a voluntary scheme last year, where shops agree to ask customers who appear to be under the age of 21 years old for identification and to not sell acid or ammonia to anyone they suspect may cause harm with these products.
Four shops signed up to a trial last year, but the council is now calling for all the shops in the borough to join.
All shopkeepers who sign up will be trained by council officers and provided with a notice, which tells customers they will not sell to under 21s.
There is currently no age restriction on buying such items in the UK.
Last year corrosive fluids like ammonia and acid were used in 454 crimes across London, compared to 261 in 2015.
'We have taken the initiative by asking shopkeepers to voluntarily ID customers and report suspicious sales,' said Hackney mayor, Philip Glanville.
'Over the next few weeks we're going door to door handing out leaflets and speaking to shop keepers to ask them to join our scheme and help keep these dangerous substances off the street.
'Our trading standards officers already carry out test purchases and enforce against the sale of restricted items to underage people – a shopkeeper was recently prosecuted and fined £2000 for selling a knife to a teenager in Hackney – so we will certainly enforce the sale of corrosive substances if there is a change in the law that allows us to do so,' added the mayor.