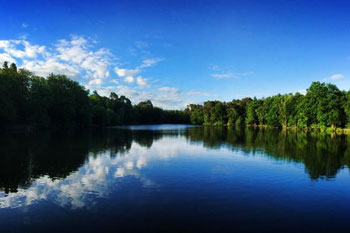 A council is planning to wipe out the fish stock in one of its lakes in order to discourage anglers.
Bristol City Council, following a Neighbourhood Partnership decision, is attempting to stop fishing in St. George Park because of the detrimental affect the sport has on its lake's wildlife.
In the last three years, the council reports, the Swan Rescue team has been called 17 times to help swans who have been injured by fishing tackle.
They also argue that the combination of high fish stock levels and fishing bait has led to the water quality deteriorating.
Bristol has decided on the dramatic option because the high parasite loadings in the fish make them unattractive to other possible host waters.
A council spokesperson said: 'Having looked at the options, and recognising that the fish could not be re-located into other host waters, St George Neighbourhood Partnership agreed to remove all the fish from St George Park lake.'
'It is not an uncommon practice,' the spokesperson emphasised, 'as part of good management of still waters, particularly small ones, for fish stocks to be regulated by removal. The fish will be humanely euthanized using an 'overdose' of anaesthetic.'
'If opportunities arise to relocate some or all of them we will of course explore and consider them', they added.