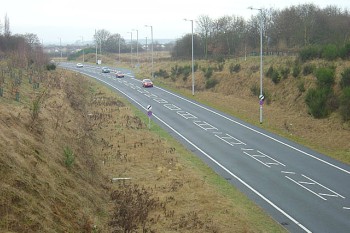 A Yorkshire council is planning on suing Highways England in an effort to recover Selby bypass repair costs.
Highways England built the bypass in 2003 and transferred it to North Yorkshire County Council in 2009.
After the transfer, the road started to deteriorate badly and was the subject of regular complaints from local residents, businesses and road users.
The county council investigated and discovered fundamental problems with the road structure and the lower layers of its construction.
The council and Highways England agreed the nature of the repairs necessary to fix the bypass, but there was no agreement on who was liable for the costs.
The county council's contractors carried out the work over three phases starting in 2015. This cost £7.8m.
At one stage Highways England said it would be able to contribute £2.89m towards the final bill. It now argues it can contribute nothing.
'We are very frustrated to find ourselves in a position where we have no choice, for the sake of the county's taxpayers, but to take direct legal action to recover £7m,' said cllr Don Mackenzie, North Yorkshire's executive member for highways.
'This is most of the cost that resulted from the substandard construction of the bypass when it was first built.
'We do not want to see significant amounts of public money being spent on legal fees, but as it stands the underinvestment and substandard work funded from central government has directly resulted in huge financial expenditure on the part of North Yorkshire taxpayers and this may have adverse consequences on funding of future work on our highways.
'It means we will have to fund the £7m shortfall from future North Yorkshire highway maintenance funds.'
A spokesperson for Highways England said: 'We are aware of North Yorkshire County Council's intentions to pursue legal action regarding the A63 Selby bypass.
'We will be following the necessary legal proceedings in this matter.'
Photo: ©Alan Murray-Rust