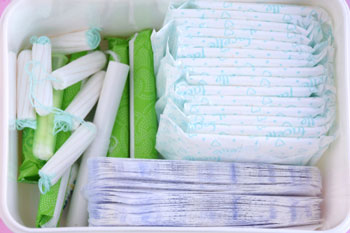 Free sanitary products are to be provided in all buildings owned by Stoke-on-Trent City Council after it joined forces with a charity to tackle period poverty.
The partnership with Period Power will see free sanitary towels and tampons available in staff and public toilets.
The charity will initially supply more than 500 products, which the council will replace as needed.
Cllr Ann James, council leader and cabinet member for health and social care, said: 'When you speak to food banks, they are seeing a need for these items but they weren't always being provided because people were embarrassed to ask for them.
'Women just get on with life while having their period but this provision will mean people accessing our buildings – which can often include homeless people or those facing other challenges – won't have to face the embarrassment of asking for help if they are caught out by their period.'