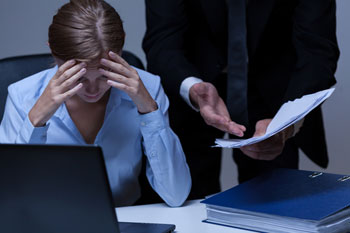 A week-long strike is underway at a Scottish council over alleged bullying and intimidation by a town hall manager.
Over 100 workers employed at South Ayrshire Council's property and maintenance department are walking out after claiming a manager at the centre of scores of separate complaints was allowed to remain in his post.
The UCATT and Unite unions said 37 grievances had been lodged about the senior figure, concerning 'bullying, victimisation, goading and intimidation'.
Unions said industrial action had been taken 'as a last resort' and only after the town hall's internal grievance procedure had been 'exhausted'.
An investigation into the manager recommended that he be monitored for a three month period and attend on a management course. A subsequent appeal was rejected by elected members.
Yet unions said the investigation had been left 'restricted' after the manager was allowed to remain in his job.
'Had the tables been reversed and the complaint was made against one of our craft workers, they would have been suspended,' Paul Bennett, regional organiser for UCATT Scotland said.
Bennett added that both UCATT and Unite had 'endeavoured' to avoid industrial action, but said the result of a conciliation meeting 'would suggest that the council are willing to protect a bully'.
Harry Frew, regional secretary for UCATT Scotland, said: 'Our workers are taking strike action as a last resort as the council has totally failed to deal with very serious issues that are making their working lives intolerable.
'Bullying, victimisation and intimidation is never acceptable in any workplace and UCATT will fully support any of our members who are facing these problems at work.'
David Burns, head of housing and facilities, said: 'Our focus is on maintaining the delivery of services to the public, despite the current strike action by employees within our property maintenance section, and we are achieving this.
'The grievance referred to by the unions was thoroughly investigated and concluded in line with the policy collectively agreed with the trade unions. We stand by the process that was followed, including the appeal to a panel of councillors, which was not upheld.
'We're very concerned about some of the recent untrue and misleading comments made by the union regarding this matter and are raising this with them directly.'