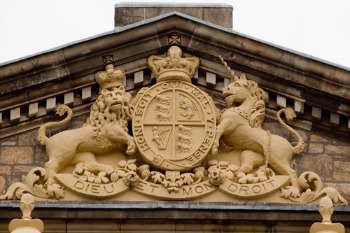 Two Edinburgh City Council employees have pleaded guilty to receiving thousands of pounds of bribes from building company staff.
Charles Owenson, 62, and James Costello, 44, took cash and hospitality from ABC Ltd employees Kevin Balmer, 52, and Brendan Cantwell, 44, in exchange for help winning maintenance contracts from the town hall.
Both council workers pleaded guilty at Edinburgh Sherriff Court to breaching the 1889 Public Bodies Corrupt Practices Act.
Owenson and Costello accepted bribes between 2006 and 2010 while working at Edinburgh's property care services section.
Three other men, two former council officers and a contractor, were discharged from the dock after pleading not guilty to charges of corruption.
Cantwell and Balmer admitted corruptly giving £42,521 to Owenson and Costello alongside £30,249 in hospitality as an inducement to secure contracts for the repair and maintenance of council buildings.
Owenson also admitted receiving £28,387 as a reward for the town hall awarding contracts to ABC Ltd.
A third charge states Costello acted corruptly while acting as an officer, receiving £14,134 after contracts were awarded.
Balmer admitted causing Edinburgh City Council to pay ABC Ltd £67,923 for work carried out on behalf of the local authority and taking £22,641 through the fraudulent scheme.
The case was adjourned until Friday.
Sue Bruce, Edinburgh City Council's chief executive, said: 'We expect the highest standards from our staff and where allegations are made concerning mismanagement or fraud, we will investigate and take the strongest possible action.
'We have reviewed and made substantial changes to our management arrangements for this service.
'It is important that the public have the utmost faith in the services we provide.
'The overwhelming majority of our staff are committed to making a positive difference to the lives of people in Edinburgh.'