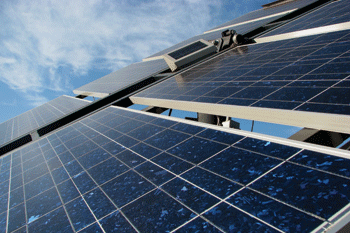 Council-issued solar bonds, designed to partially fund a solar farm in Swindon, have sold out a month earlier than expected.
Swindon Community Solar Farm has become the UK's first solar farm to be funded jointly by a borough council and bonds sold directly to members of the public.
The bond offer, structured by investment platform Abundance, opened last February and closed yesterday after reaching its £1.8m target.
Swindon Borough Council will also invest £3m to build the 5MW solar farm on council-owned land near Swindon.
The investment was open to anyone with a minimum of £5 and offered an effective rate of return of 6% over its 20-year term. While the offer was open, it attracted an average of £18,000 in investment per day, with one-third coming from the Swindon area.
The solar farm, managed by a community interest company owned by the council, will help Swindon in its aim to install 200MW of renewable capacity by 2020, enough to meet the equivalent energy requirements of every home in the Borough.
65% of the distributable profits will go towards funding local community initiatives, with the remaining 35% going to the council.
Cllr Dale Heenan, the council's cabinet member for transport and sustainability, said: 'We took a bold decision to create this community solar farm by offering the first council bond direct to the general public in over 100 years.'
He continued: 'All councils need to find new and innovative ways to fund the vital work that they do for their communities, and Swindon now has a template which other local authorities can follow.
'Embracing renewables will help Swindon Borough Council raise £1m more in business rates and rent by 2020, which means £1m more every year which can be spent on important local services.'