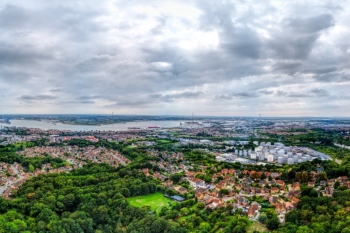 Thurrock Council has secured an injunction to prevent protestors from blocking roads or stopping vehicles at key fuel terminals in the borough.
The injunction - which is the first of its kind to be issued to a council - has been given after three fuel terminals in Thurrock were targeted by activists over the last few weeks.
It gives police new powers to deal with anyone blocking these sites or gluing themselves to the road or vehicles, causing disruption to road networks, local businesses, waste collections and other frontline council services.
A statement from the council said: 'Over the last three weeks, Essex Police have made 461 arrests in connection with illegal acts carried out as part of oil protests in Thurrock, with various emergency and partner services working tirelessly to restore order safely.
'The operation has so far cost Essex Police, Thurrock Council and other partners more than £1m.'
The injunctions cover areas around the Navigator Oil Terminal in Grays, Inter Terminal UK's site in Grays and Thames Oilport in Stanford-le-Hope as well as other key fuel infrastructures sites and filling stations in the borough.