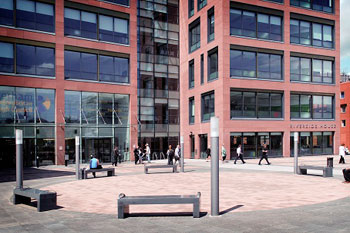 Rotherham Council has come under fire after offering a convicted sex offender access to the child of one of his victims.
Sammy Woodhouse, a survivor of the Rotherham child exploitation scandal, has called for a change in the law after the man who raped her was offered parental access to her son.
The local authority approached Arshid Hussain, who was jailed for 35 years in 2016 after being convicted of 23 child sex offences, because he was listed as a 'respondent' in a Family Court case.
In a widely shared video on Twitter, Ms. Woodhouse said Hussein was 'a danger to myself and to other children'. 'I've also been able to prove that he is a direct danger towards my son,' she added.
Ms. Woodhouse was a key witness in South Yorkshire Police's Operation Clover investigation, which saw six people jailed in 2016 for the sexual exploitation of 15 young girls in Rotherham.
A campaigner and author of Just a Child, a book about how she survived abuse, Ms. Woodhouse called for the 1989 Children's Act to be changed to 'ensure rapists can't gain access to children conceived through rape and abuse.'
'This is happening all over the country, and it needs to stop. Children are being removed [and] being given to rapists, to murderers,' she said.
The Times: 'Jailed rapist given chance to see his victim's child'.

Rotherham council have offered convicted rapist access to my son.

This is happening all over the UK and must stop! An investigation and change in law is needed. https://t.co/dxSnGt29Is pic.twitter.com/7nJ1jnvJGN

— Sammy Woodhouse (@sammywoodhouse1) November 27, 2018
A Government spokesperson said: 'This is obviously a very distressing incident and the relevant departments and local authority will work urgently to understand and address what has happened in this case.
'Local authorities can apply to courts to request permission not to notify parents without parental responsibility about care proceedings, and courts should consider the potential harm to the child and mother when making this decision.'
A Rotherham Council spokesman said: 'Today's further disclosures in relation to proceedings in the family court have understandably caused widespread concern and upset.
'As the public would expect, we have already begun to review the specifics of the case. As we have said previously we are not able to comment publicly on those specifics.
'However, we must be clear that at no stage has it been the intention of the council to put any child at risk, or to allow any convicted child sexual exploitation offender to have care of any child.
'Concluding the review will take time, and we are asking the Ministry of Justice to work with us on this to ensure that it is completed thoroughly and properly.
'Furthermore, we are in contact with the Ministry of Justice about how Practice Directions which apply to cases in the Family Courts should be applied, and we will be seeking further conversations with government officials about this as a matter of urgency.
'It is imperative that clarity is realised as soon as possible, not just for Rotherham, but to ensure that other councils across the country who may face similar issues are able to act with certainty and no more survivors of abuse have to experience further trauma.'