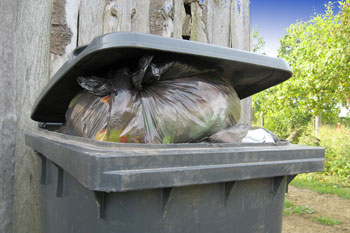 A council in Greater Manchester has moved ahead with plans to collect some household rubbish only once every three weeks.
In what is thought to be a national first, Bury Council has decided to empty bins holding non-recyclable waste every three weeks instead of every fortnight. The move is expected to contribute to savings of over £800,000.
Earlier this year local government minister Brandon Lewis branded the plans to move away from two weekly collections a 'bad decision'.
Two of the borough's recycling bins will now be collected more often, with bins holding plastic, glass and metal and paper and cardboard being emptied every three weeks instead of every four. Food waste will continue to be collected fortnightly.
The move is designed to boost local recycling rates, which have risen from 27% to 47% since fortnightly collection of non-recyclable household waste was introduced in 2011.
Bury Council currently spends around £10m a year treating and disposing of waste that can't be recycled.
Cllr Tony Isherwood, cabinet member for the environment, said: 'I know that these changes have caused some concern, but they are necessary if we are to recycle more and save money that can help protect other public services.
'Studies show it's possible to recycle around 75% and we know that other areas in Greater Manchester already recycle over 60%.'