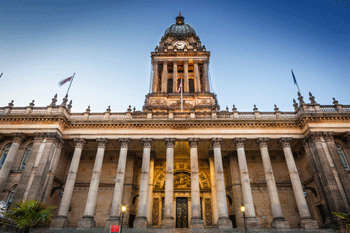 Leeds is launching today a 'pioneering' new Climate Commission to encourage investment in low-carbon, climate-resilient developments.
A new study by the University of Leeds has assessed the total energy bills of the UK's 50 biggest cities and found they currently amount to over £35bn a year - an average £1,500 per person.
It found that simple, profitable improvements to heating, lighting, insulation, appliances and vehicles would 'reap extraordinary results' for their citizens.
It also found that the up-front cost of the changes would total less than one per cent of GDP annually for the next ten years.
Measures such as more efficient lighting in homes or cooling in retail buildings would cover their costs in approximately a year and generate profits.
The commission, which will be launched by former environment secretary and current chair of the UK Committee on Climate Change, Lord Deben, is designed to harness the capacity of 24 key businesses and organisations.
'In Leeds we are fully committed to creating a low carbon, climate resilient city, and the Climate Commission takes us another step closer to this,' said leader of Leeds City Council, Cllr Judith Blake.
'It will ensure that organisations across the city come together and really make a move to cut the city's energy bill and look at how we can pass these savings on to households.'
Professor Andy Gouldson, who led the study from the ESRC Centre for Climate Change Economics and Policy at the University of Leeds, commented: 'All cities are struggling to deliver things like low-carbon strategies in the face of spending cuts, but we've proved that garnering investment in practical energy-saving measures is a win-win for all involved.
'Industry wins, local authorities win, householders win and the climate wins.'