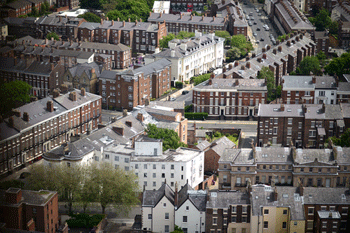 Liverpool City Council has appointed administrators to a pharmaceutical company which was loaned £2m by the authority.
The loan was granted to Cheshire-based cancer drug development company Redx Pharma in 2012 to enable it to expand its business in Liverpool.
It was initially due to be repaid in 2015 but the council later agreed to extend the deadline by two years, to 31 March this year.
Despite the extension, the council said Redx had shown no inclination to repay the sum, nor made any contact, nor paid even a portion of what was owed.
The council decided to appoint administrators after making a formal demand for the debt.
Mayor Joe Anderson said: 'This is a highly regrettable situation but Redx has been given more than two years to put its house in order and establish a way to repay this investment loan.
'Even at the 11th hour the council was willing to work on a repayment schedule but it is now clear Redx has no intention to work with us in any meaningful way.'
However, Redx insisted it had been in contact to negotiate the repayment of the loan and claimed that despite 'considerable effort' on the part of the board these talks were unsuccessful.
The company said its offer to immediately repay £1m in return for an extension on the repayment of the outstanding amount had been rejected by the council.
Redx chairman, Iain Ross, said: 'The timing of this action by Liverpool City Council is extremely unfortunate and quite baffling considering our efforts to have face-to-face discussions, the immediate offer of a payment plan and our latest proposal to make an immediate £1m payment in return for a short grace period.
'Despite our assurances to resolve the matter quickly, the council has refused to meet with me or have any direct discussion.'
Trading at the company, which was about to put two cancer drugs into clinical trial, has been suspended.
Liverpool maintains that Redx's offer of repayment was only made after the council contacted it to formally demand the debt.