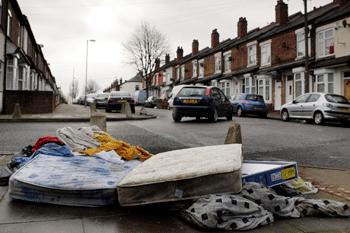 Producers of the controversial Channel 4 programme Benefits Street have been told they are 'not welcome' by Stockton-on-Tees Borough Council.
The channel announced yesterday it had commissioned a second series of the observational documentary for which filming has begun on a street in Stockton-on-Tees, near Middlesbrough.
Council leader Cllr Bob Cook said: 'I am deeply disappointed to learn that the programme makers have chosen Stockton despite the local residents' associations, residents, MP and council all making it clear that they aren't welcome.
'They have ignored us in pursuit of their own needs and I am extremely concerned about the way in which the fantastic people who live and work in Stockton borough will be portrayed by this programme.
'The vast majority of people know that the programme plays to negative stereotypes and I'm certain it won't reflect the amazing sense of community we have here in Stockton.
'We understand the difficulties many of our residents are facing given the current economic situation but that's why we are focusing our efforts on protecting our most vulnerable residents, attracting investment and jobs, as well as improving facilities.'
Photo: Channel 4 press office