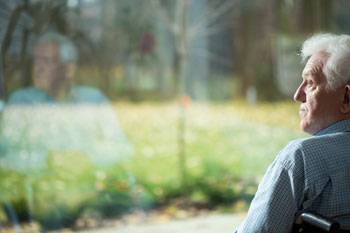 A council has been ordered to pay out hundreds of pounds in compensation after separating a married couple for 10 months due to a lack of homecare availability.
The Local Government and Social Care Ombudsman (LGO) ordered Lincolnshire CC to pay the husband £750 and the wife £1,000 after the latter was placed in a residential home miles from her husband following a hip operation.
The woman should have been sent home with the help of a care package after the operation. Instead, the council placed her in a residential home 15 miles from her husband because the contracted providers did not have capacity to care for her.
Not only did this lead to a 30 mile round trip everyday for the husband, the wife was also placed in a dementia unit despite not having the condition. The LGO reports she had to lock her door to prevent other residents wondering in.
'This couple found themselves in the situation of a hospital operation leading to 10 months living apart, because of the lack of care provision available,' said LGO Michael King.
'The woman was placed for too long in an unsuitable care environment. She wanted to return home to be with her husband, but instead had no choice but to live with people whose care needs were very different to her own, causing her significant distress.
'Lincolnshire County Council should have reviewed her care and support plan once her circumstances had changed and moved her to a more suitable room sooner.'
The LGO found that in an effort to improve stability in the local market, Lincolnshire had agreed contracts with a smaller number of preferred care providers, each solely responsible for delivering all homecare services in their zone.
The newly contracted provider in the woman's area didn't have enough capacity to provide care to meet her needs.
On top of the money the council must pay the husband and wife for the distress caused, Lincolnshire County Council must refund the man's travel expenses for the 10 month period.
'Our primary concern is to ensure that people are safe and well cared for during any period of transition,' said a Lincolnshire CC spokesperson.
'We accept the Ombudsman's findings and have sincerely apologised to the individuals mentioned in the report.
'The Ombudsman acknowledged the council complied with our duty to provide a service that was safe and met identified needs.
'In all cases we work closely with the family to consider a number of options and find a placement that is acceptable to them.'
'There are currently no individuals waiting longer than they should be for home care in a short stay residential bed,' they added.