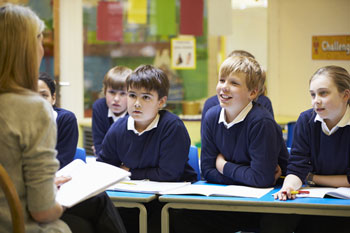 Oxfordshire County Council has defended its guidance to schools looking to support young people who feel they are not the gender they were assigned at birth.
Two parents and a teacher are taking legal action against the council for its Trans Inclusion Toolkit for Schools 2019 which they argue 'is seriously flawed and poses a risk to children'.
The Safe Schools Alliance UK, which supports the legal action, argues that the report contains safeguarding flaws and fails to take into account all protected characteristics of the Equality Act 2010.
It says the guidance will see schools being compelled to allow male pupils to share changing rooms, toilets and dorm rooms on residential trips with female pupils without parents' knowledge or permission.
They also claim that the guidance indicates that teachers failing to affirm the 'gender identity' of their pupils may face disciplinary action.
'This confused guidance to schools misrepresents the law and exposes children and young people to the potential of harm,' said Paul Conrathe, Human Rights Solicitor from Sinclairslaw, the legal firm that is bringing the action.
'Central to its legal error is its bold assertion that "trans-girls are girls and trans-boys are boys". This guidance has whole-heartedly embraced transgender ideology at the expense of the rights of others.
'It is surprising and concerning that a public authority could issue such a document. My clients will be pursuing a judicial review if it is not withdrawn.'
A spokesperson for Oxfordshire CC said: 'While we acknowledge this is a difficult and emotive area, we are confident the revised toolkit will provide helpful guidance to schools looking to support this potentially vulnerable group of young people. We utterly refute the suggestion that we are failing to safeguard children.
'As part of the Oxfordshire Safeguarding Children Board, we have recently worked with national experts and people who identify as trans to review the Trans Toolkit to enable organisations working with children and young people to provide effective support.
'This review confirmed the fundamental substance of the previous guidance, and has led to some improvements, which have been fully and unanimously approved by members of the Oxfordshire Safeguarding Children Board.'