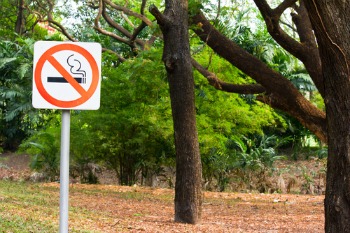 Smoking could be banned on beaches in Brighton and Hove under new plans to protect the health of children.
The city council will on 21 July consider launching a public consultation on plans to extend existing smoke-free zones to parks and beaches across the region.
Brighton and Hove said the measures would aim to create a city environment free from second-hand smoke, particularly in locations where children are likely to be present.
The move would mirror action in several US states to limit outdoor smoking in settings such as cafes, parks and children's playgrounds.
Dr Tom Scanlon, director of public health, said: 'The time is right to have the debate in Brighton & Hove as to whether we wish the same here.'
Local smoking rates far exceed national levels, with a 2013 poll finding 25.2% of residents smoke in comparison to the England average of around 18%.
Cllr Daniel Yates, chair of Health and Wellbeing Board – which is tasked with considering whether to launch the consultation - said: 'The health benefits of smoke free areas and protecting children from second-hand smoke are well established. We're keen to keep people safe from the effects of smoking in public areas, especially children who are most vulnerable.
'However we also want to ensure any measures taken have support of residents in the city. The report is a welcome addition to the meeting agenda.'
Pembrokeshire County Council has also proposed banning smoking on a local beach for a trial period.