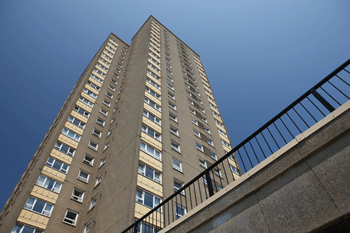 Rugby Borough Council are considering providing some tenants with new homes due to concerns their tower block may be unsafe in the event of a 'fire or explosion.'
Councillors are considering a proposal that will see residents of multi-storey flats given alternative accommodation so that the buildings can be repaired or replaced.
A survey commissioned in 2016, as well as a number of more recent studies, found the blocks had been built around 1968 to a 'poor standard' and therefore might not perform as expected in a fire.
The surveys revealed, among other issues, that the connections between concrete panels were not well constructed and linking steel work is not always properly connected to the structure.
They also found concrete in critical areas is suffering from carbonation — known as 'concrete cancer' — reducing its strength.
However, further work also showed the structure of the blocks would maintain fire resistance in accordance with British Standards and could also resist structural wind loadings.
'The multi-storey blocks have stood safely since they were built around fifty years ago, and all previous fires within the blocks have been contained as designed,' a council spokesperson said.
'However, while we don't yet know whether the blocks at Biart Place can be repaired or will have to be replaced, we do know that any repair work that would address the construction problems would be very disruptive and could not be carried out while the flats are occupied.
'Since we are going to have to find new homes for our tenants either way, we are asking councillors to allow us to press ahead and make all of the necessary arrangements as soon as possible.
'It is very important that we are able to give our tenants certainty and are able to work with them to find new homes.'