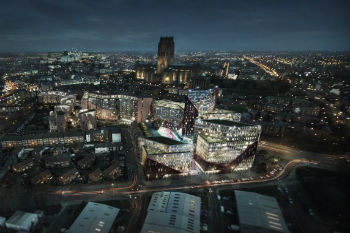 Liverpool City Council could be set to use Compulsory Purchase Order (CPO) powers to kick-start the stalled 'New Chinatown' development site in the city centre.
The scheme was purchased by Chinatown Development Company Ltd in June 2015, and was intended to create a new urban quarter with 790 new homes.
However, since it was granted planning permission, the sales agent for the company has been accused of fraud on the Hong Kong market.
The council will use its CPO powers to assemble the site unless the developers manage to sell the site.
Cllr Ann O'Byrne, deputy mayor of Liverpool, said: 'Liverpool City Council has been deeply concerned with how events have unravelled with the funding of Chinatown Development Company Ltd's scheme.
'This report illustrates how hard we have been working to rectify the situation and the lengths we will go to, if necessary, to ensure the site is developed.
'It is vital that a new developer is found to get this scheme – or an amended one – back on track for the good of the Chinatown area, the city and those who have invested in it.'