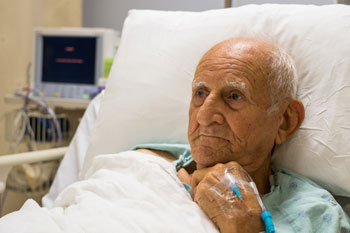 Local government leaders have renewed calls for extra funding for adult social care after the latest figures showing NHS trusts are almost £1bn in the red.
Annual data showed a surge in demand had affected the NHS's performance in key areas, causing waiting times to lengthen and more than expected being spent on temporary staff.
The Local Government Association (LGA) said the figures were 'extremely worrying' and showed that extra funding for adult social care services would reduce pressure on hospitals because fewer people would be admitted.
Linda Thomas, vice chair of the LGA's community wellbeing board, said rather than wait for proposals in the forthcoming green paper on social care, the Government should plug the funding gap for the service immediately.
She said: 'Government needs to give urgent funding to councils to invest in prevention which will reduce demand and cost pressures on the NHS by preventing people from being admitted to hospital in the first place.
'But we cannot afford to wait for the adult social care green paper reforms to deliver, we need action now.
'As a down-payment on funding reforms, government needs to fully plug the funding gap facing adult social care, which is set to be more than £2bn by 2020, including £1.3bn that is needed now to stabilise the provider market.'