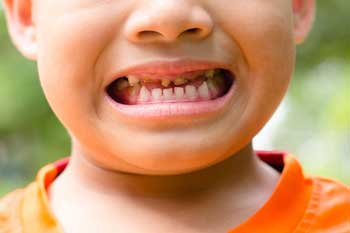 Cuts in public health funding must be reversed to tackle tooth decay in children, local government leaders have demanded.
The Local Government Association was responding to the latest figures from health experts saying nearly nine in every 10 hospital tooth extractions among young children were due to preventable decay.
Public Health England says tooth decay results in at least 60,000 days being missed from school every year for hospital extractions alone, but could be prevented by cutting down on sugar and practicing good oral hygiene.
Ian Hudspeth of the LGA's community wellbeing board said: 'If the Government is serious about tackling tooth decay early, they should use the upcoming Spending Review to reverse the £700m real terms reductions to councils' public health grants between 2015/16 and 2019/20.
'Councils rely on this grant to commission health visitors, who lead delivery of preventative programmes and are key to promoting good oral health in the early years.'