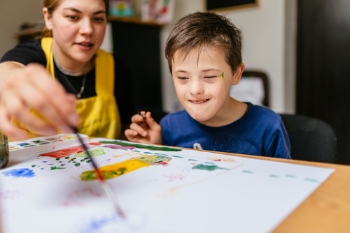 The number of children in England in need of special needs support has increased dramatically over the past year, local authority leaders have warned.
The latest figures from the Local Government Association (LGA) show that the number of children in England approaching councils for special needs support has increased by almost a quarter in a year, with 170 young people now starting support plans each day.
The LGA warned that 'emergency action is needed now' to help meet the rising demand for special educational needs and disabilities (SEND) support.
It urged the Government to scrap the high needs deficits councils have built up as a result of the costs of providing support outstripping the SEND budgets available to local authorities.
Council leaders are gathering at the LGA's Annual Conference in Harrogate today to discuss the SEND reforms that were set out earlier this year.
Cllr Anntoinette Bramble, chair of the LGA's Children and Young People Board, said: 'The fact that 170 children and young people with SEND are starting EHC plans each day, demonstrates the huge pressures councils are under to ensure every child gets the very best support that meets their needs.
'While it was good the Government set out much-needed reforms to tackle where the current SEND system is not working, these will take time to be implemented.'
'Action is needed now to help councils meet the rising demand and spiralling costs of providing support that they are seeing on a daily basis,' Cllr Bramble continued.
'This is why we are urging the Government to eliminate councils' high needs deficits, which would help to significantly relieve the strain on councils' budgets and enable them to better support children with SEND.'
The LGA's figures revealed that the number of initial requests for an EHC plan, which sets out the provision of SEND support for each individual, fell to 75,951 in 2020 due to the pandemic after four years of increases. However, the number of requests jumped by 23% to 93,302 in 2021.
There are now nearly half a million children and young people (473,255) on ECH plans – an increase of over 100% since eligibility for SEND support was extended in 2014 to people aged 16-25.
Responding to the LGA's research, Cllr Keith Glazier, Children's Services spokesperson for the County Councils Network (CCN) said that county councils were under particular pressure.
The CCN projects that the number of EHC plans for councils in county areas could rise by 49% between 2018 and 2023, adding significant pressure to their high needs budgets.
'The Government's Special Educational Needs and Disabilities White Paper recognises these pressures, which were created as a result of legislative changes in 2014, and proposes a new set of national standards,' said Cllr Glazier.
'These standards, linked to associated funding, could provide the clarity required for both local authorities and parents alike. It is also vital that other public sector partners, such as schools and health organisations, fully share the responsibility of tackling these challenges.
'It remains to be seen whether the proposals will fully address these demand-led pressures in EHCPs. We will be submitting a full response to the consultation in due course.'