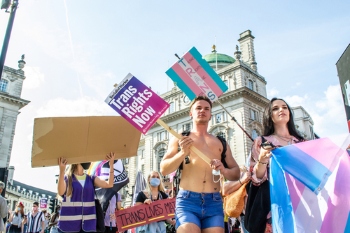 Feminist campaigner and writer Julie Bindel has threatened to sue Nottingham City Council after the local authority banned her from giving a talk in a local library because of her views on transgender rights.
Ms Bindel was due to give a talk on her history as a feminist activist at an event on Saturday in Aspley Library organised by the group called 'Nottingham Women for Change'.
However, the talk was cancelled by the local authority because of Ms Bindel's controversial views on trans rights – or what she calls the 'trans ideology'.
In a statement, Nottingham City Council deputy leader Cllr Adele Williams and portfolio holder for Neighbourhoods, Safety & Inclusion Cllr Neghat Khan explained: 'This was a private booking at Aspley Library by the 'Nottingham Women for Change' group and all ticket sales and marketing of the event had been undertaken independently with no input from the council.
'While it was known that the event was going to be from a feminist perspective, no information around the speaker's views on transgender rights was brought to the Library Service's attention.
'Once we became aware of this, we took the decision to cancel the booking. Nottingham is an inclusive city and as a council we support our LGBT community and have committed to supporting trans rights as human rights through Stonewall. We did not want the use of one of our library buildings for this event, taking place during Pride month, to be seen as implicit support for views held by the speaker which fly in the face of our position on transgender rights.'
Responding to the decision, Ms Bindel accused the council of discrimination and libel and said she would be suing the local authority.
Writing on the Mail Plus, she said: 'They have discriminated against my basic rights as a woman and as a lesbian. They have erased my freedom of speech and they have grossly libelled me. For this, they are going to be made to pay.'