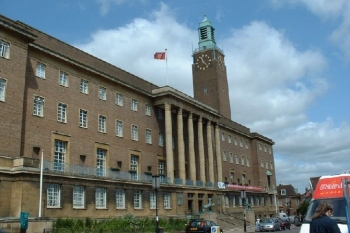 Norwich City Council failed to carry out inspections relating to fire, electrical, asbestos and water safety, causing the potential for 'serious detriment to tenants'.
The Regulator of Social Housing has warned the council breached the Home Standard after failing to meet statutory health and safety requirements.
The council - which referred itself to the regulator - said over one thousand electrical inspections were overdue, including around two hundred communal tests.
It also failed to complete a number of fire risk assessments on time, including some at high-risk buildings and sheltered scheme.
Hundreds of legionella risk assessments were also overdue, and the council was unable to provide data on either communal or domestic asbestos surveys.
The notice said: 'Taking all of this information into account, the regulator concluded that Norwich City Council has breached the Home Standard, and as consequence, there was the potential for serious detriment to tenants.
'Since identifying these issues, Norwich City Council has worked with an external consultant to develop and implement an action plan in order to strengthen its systems and return to compliance. A programme of work has commenced, and we have been assured by Norwich City Council that it has taken immediate and appropriate action to mitigate the risks to tenants while the programme is being delivered.'
Alan Waters, leader of the council, said: 'We take full responsibility for not meeting the required standards as set out by the regulator. In plain terms, we have fallen short of what our tenants and leaseholders should be able to expect from us regarding safety checks across all our council homes.
'Our commitment to resolving this matter is unwavering. The urgent work programme we already have in place to bring all our compliance checks up to date is priority for us and is underway.
'We feel assured that the regulator is confident our work programme will resolve the matters we brought to their attention and that no enforcement action is necessary.'
Photo: GaryReggae / Geograph