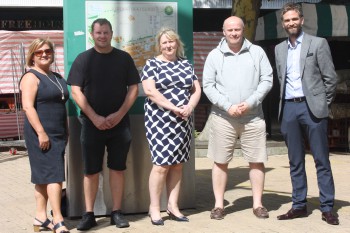 Basildon Council has been awarded €600,000 - nearly £546,000 - of EU funding as it takes the lead in a project designed to revitalise its town centre.
The funds are part of a three year European Regional Development Funding (ERDF) project worth approximately €5m (over £4.5m), which involves 16 partners from across southern England and northern France.
The project - called 'GoTrade' which stands for Growth of the Visitor Economy through Traditional Markets, Employment and Skills - aims to increase visitor footfall by 'enhancing the visitor experience of traditional street markets.'
GoTrade hopes to reverse the trend of shoppers choosing to shop online rather than in local markets.
As lead partner, Basildon Council will be responsible for the project management of the partnership.
'People love markets for so many reasons and this funding is great news for our market traders, residents and visitors to the borough,' Cllr Linda Allport-Hodge, Basildon chairman of the infrastructure, growth and development committee.
'Markets contribute towards the economy and provide a sense of community for those that use them. This will help our markets be even more successful.
'The funding announcement is just the start, next comes the research to get an insight into markets across the partnership.
'This is a great achievement for our Economic Development team to not only secure this funding but to be leading on such an innovative project.'