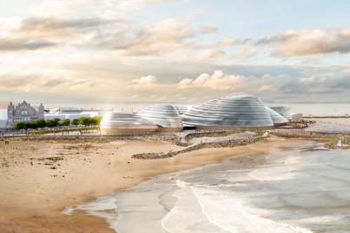 Lancaster City Council has agreed to transfer land for the £125m Eden Project North.
The deal, subject to the project achieving funding and planning permission, involves a site on Morecambe seafront which was formerly occupied by the Bubbles leisure complex.
Eden have agreed to pay a percentage of each ticket sold into a trust fund to benefit the local community once the site is established.
Cllr Caroline Jackson, leader of Lancaster City Council, said: 'Eden Project North promises to be the most significant project in our district for a generation. It will provide huge benefits to our economy through a commitment to local purchasing and creation of good local jobs.
'I'm particularly pleased that our agreement with them includes the creation of a community fund, which will ensure the people of Morecambe directly benefit for generations to come.'
Photo: © Grimshaw Architects