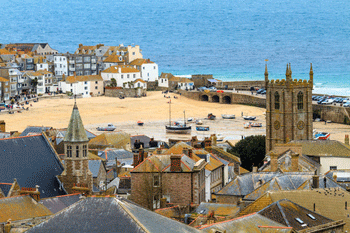 Cornwall has 'no plans' to close its Brussels office despite voting to leave the European Union, a spokesperson has confirmed.
The council's office in Brussels will remain open in order to ensure Cornwall continues to benefit from EU funding. This is despite the fact residents of the south western region voted Leave in the recent referendum - 182,665 votes to 140,540.
'The Cornwall Brussels Office has been invaluable in making sure that Cornwall made the most of available EU funding and in ensuring that our voice has been heard in shaping EU policy,' the spokesperson explained.
'We have no plans to close the office in the short term as it is unlikely that the UK will leave the EU within the next two years.'
The announcement comes shortly after the Local Government Association (LGA) called on the UK Government to provide reassurances that local areas will receive £5.3bn of EU funding that has yet to be released.
Cornwall, like many regions in the UK, benefits from money distributed by Brussels. The European economic regeneration programme for the region—the Cornwall and Isles of Scilly Growth Programme—is worth nearly €604m.
The council said it will reconsider maintaining an office in Brussels once the UK's relationship to the UK is clearer.
'When the terms and timescales of the UK's exit is known, we will review the requirement for a presence in Brussels,' said the spokesperson. 'Until then it is a case of business as usual.'