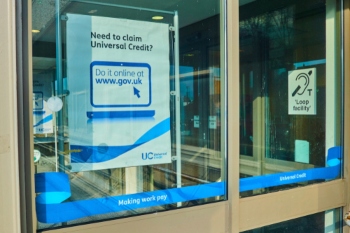 Around half a million people failed to claim for Universal Credit during the start of the pandemic despite being eligible for the benefit, new research has found.
The study, funded by the Health Foundation, found the anxiety and stigma around claiming benefits was deterring people from applying even though they were struggling financially.
It estimates that up to 390,000 people wrongly thought they were ineligible for Universal Credit, while 220,000 people thought they were eligible but did not want to claim. Of these, 59% said the perceived hassle of applying had put them off, with 27% blaming the stigma associated with benefits.
Nearly half of those not accessing Universal Credit reported severe financial strain, with 80,000 people skipping meals because they could not afford to eat.
Professor Lisa Scullion, co-director of SHUSU at the University of Salford and project lead, said: 'Overall, the benefits system has responded well to the unprecedented demands which a year of different lockdown measures has brought. However, historic weaknesses remain.
'It is clear that there are relatively high levels of need amongst people who do not claim the benefits that they are entitled to. The Department for Work and Pensions should publish its own 'benefit take-up strategy' for the UK as a whole, aiming to ensure that people can claim the rights benefits as quickly as possible, correct misperceptions about the benefits system, and attempt to address benefits stigma.'
The project is led by the University of Salford, working in collaboration with the University of Kent, the University of Leeds, the LSE and Deakin University, Australia.