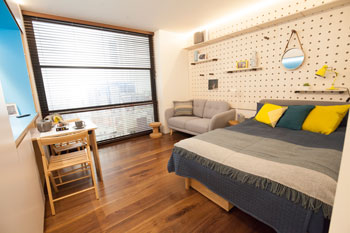 Public bodies with unused land should support the private sector in developing compact living accommodation in central London, regeneration specialists say.
According to a new report, compact living developments could bring an additional £200m of income and just over 1,000 new jobs to central London.
Compact living flats would be housed in buildings with a range of communal and co-working facilities and would be for rent only. They could be built in Zone 1 and would still be affordable for those paying the London Living Rent.
The Development Economics report, commissioned by regeneration specialist U+I, compared the social and economic impacts of the compact living approach when compared with more typical central London developments.
Based on an assumption of locating five town flat development sites in each of the nine inner London boroughs, the study found compact living developments would deliver an additional £202.5m of household expenditure a year.
They would also house 3,555 more working age adults than typical accommodation on the same sites, while providing 4,770 more homes. These developments would also support 1,035 more local jobs.
'For too long and for too many people London has been hollowing itself out - diluting the rich blend which has made it the global capital,' said U+I deputy chief executive, Richard Upton.
'The centre is now only affordable to either the very wealthy, only occasionally present, or those living in what social housing remains. For a new generation of workers in the middle, often working centrally, living in the middle of London has long been a dream.
'People increasingly want to live, work and play in the same place and we want to develop something that not only re-fills hollow London, but also brings communities back to life and delivers real social and economic benefits.
'Ideally we would like to develop these sites in association with public sector bodies who have unused land. This could bring additional social benefit to the public sector by generating much needed revenue from the rental income, while retaining ownership of their assets.'