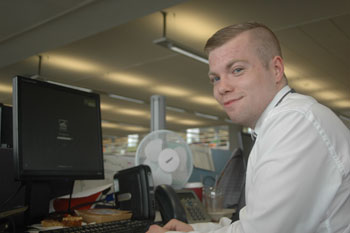 Last year Nottingham City Council was named as a Top 100 Apprenticeship Employer at the National Apprenticeship Awards, alongside organisations such as Mondelez International and South West Water.
In the last few years the council has increased its intake of apprentices. In this year alone, 50 new apprentices have already joined the Council in a variety of new and different roles.
Nottingham City Council recognises the value young people bring to its services and their apprenticeship programme targets priority groups of young people aged 16-24 – including those from minority ethnic communities that are under-represented in their workforce, those in care, young offenders, and those who may not otherwise be adequately supported to realise their potential and break the cycle of unemployment.
Apprentices receive the national minimum wage according to their age and during their time with the council all apprentices will get at least a Level 2 qualification.
Recruitment of apprentices is through two routes:
Firstly as part of the Nottingham Apprentice scheme which is an integral strand of the talent management approach and is funded corporately as well as being operationally supported by the council's resourcing and reward team in HR. The scheme is committed to recruiting 50 Nottingham apprentices a year.
Secondly as part of the vacancy management process - the council converts vacant roles into an apprenticeship that lasts for one year. Once this is completed, the successful apprentice will naturally be employed for the existing position that is available. The council has committed to 30 vacancy conversions in 2015/16.
In addition, as part of its manager engagement, the council works with mangers when thinking about their future workforce. This includes considering the challenges they may face, the skills and strengths they will need in the future and how the apprenticeships programme can help in their forward planning.
How apprenticeships are provided:
The team works hard to provide a career pathway for apprentices and in 2014/15 they supported 76% into employment with 70% staying on with the council once their apprenticeships finished. Additionally, all apprentices can access internal vacancies once they have passed their probation period.
The apprenticeship programme itself comprises of:
• Release to attend college on a regular basis and regular assessed visits from qualified assessors
• An in-house development, coaching and mentoring programme supporting apprentices to develop their soft skills and ensuring that mandatory safeguarding training is provided.
• Regular catch-up and review sessions with the apprentices to ensure they are on-track to complete their apprenticeship within the time allocated.
• A 'buddy' and mentoring support to address social needs and financial management
• Working alongside colleagues to ensure the council provides a first class service to citizens
Aiden Shannon started an apprenticeship with the council in 2013, and two years later has progressed to a resourcing & reward co-ordinator.
Mr Shannon said: 'Without a shadow of a doubt, the apprenticeship changed my life. If it wasn't for the chance I got in 2013, I know I wouldn't be where I am now. The council have supported me beyond my wildest dreams and I love getting out of bed every day and giving a little something back to my amazing city.'
About apprenticeship:
An apprenticeship is a job with substantial training and the development of transferable skills. It is a way for people of all ages to earn while they learn, gaining a real qualification and a real future.
The National Apprenticeship Service supports the delivery of apprenticeships and traineeships in England. It offers free impartial advice and support to employers looking to recruit for the first time or expand their programme.
Call 08000 150 600 or search for apprenticeships on www.gov.uk to find out more.
Josie Slater-Guynan is resourcing & reward consultant at Nottingham City Council