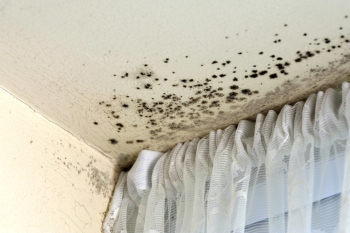 Millions of people living in cold and damp homes could be more at risk of contracting coronavirus this winter, a new report has warned.
The report, published by the Centre for Ageing Better and The King's Fund, found one in five homes in England do not meet national decent homes standards, putting the health of around 10 million people at risk.
The report warns people most at risk from the virus, such as older people and those with pre-existing health conditions, are more likely to live in poor-quality housing.
Clair Thorstensen-Woll, research assistant at The King's Fund, said: 'We have not all experienced lockdown equally. Many vulnerable people have spent more time in homes that are unsuitable, cramped or physically unsafe; environments which place residents at higher risk of worse outcomes from COVID-19.'
The report calls on the Government to ensure at-risk groups have the support they need to ensure their homes are warm and free from damp and mould.
'The Government urgently needs to reach out to these at-risk groups so any immediate interventions can be made to make homes warmer, free of damp and safer. We also need government to address the crisis in the quality of housing and recognise the key role that housing plays in the health resilience of our communities,' said Holly Holder, senior evidence manager at the Centre for Ageing Better.
An MHCLG spokesperson said: 'We have taken action to provide councils with powers to deal with dangerous damp in privately rented homes, and have empowered social and private renters with the rights necessary to take their landlords to court should they fail to provide decent living conditions.
'We have also introduced Green Homes Grants worth up to £10,000 to help cover energy efficiency improvements, meaning hundreds of thousands of homes could be warmer and safer this winter.'