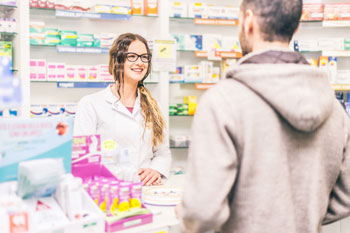 Government spending cuts which could close up to one in four community pharmacies would have a 'catastrophic' effect, an association of trade bodies has warned.
Pharmacy Voice says closing pharmacies would mean people turning to GPs who are often not available.
Its research shows more than one in four people who would normally seek advice first from their local pharmacy on common ailments would instead choose to make an appointment with their GP practice.
But it argues that an appointing more GPs is 'untenable' in any part of the country and especially in areas where it is difficult to attract them.
Announcing £170m cuts to NHS budgets recently, health minister Alistair Burt estimated it could mean between 1,000 and 3,000 community pharmacies closing out of a total 11,674.
Prof Rob Darracott, chief executive of Pharmacy Voice, said: 'Increasingly, pharmacy is playing a key role in helping people lead healthier lives through interventions like smoking cessation and weight management programmes.
'These are important stepping stones to increasing life expectancy in some our most disadvantaged communities. Losing a local pharmacy in these areas is simply not an option.'