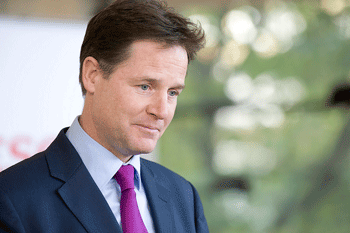 Up to three new garden cities holding at least 15,000 homes will be built to tackle Britain's 'chronic' housing shortage, Nick Clegg has announced.
The deputy prime minister launched a 'call to arms for visionaries' this morning, urging communities to bring forward ideas for garden developments to receive government support.
While emphasising garden cities would play 'a crucial role' in delivering new housing, ministers said it was also 'vital' such developments were not 'imposed from above'.
The Department for Communities and Local Government said it now wanted to 'work closely' with areas on proposals that have the backing of residents and all regional town halls.
Bids are now being invited for the £1bn of investment announced in the 2013 Autumn Statement to unlock local housing schemes of more than 1,500 residences.
'Today I'm publishing a new garden cities prospectus, which calls for local areas to submit their plans for garden cities that will provide affordable homes, good schools, and jobs for the next generation, whilst at the same time preserving the countryside,' Clegg said.
'This is a call to arms for visionaries in local areas in need of housing to put forward radical and ambitious proposals to develop their own garden cities.'
The Government will provide planning, brokerage and financial support for communities that put forward ideas for garden settlements.
The Cabinet Office added that proposals on previously developed brown field sites would also be welcomed, provided spaces were not of 'high environmental value'.
Communities secretary, Eric Pickles, said: 'Our £1billion Large Housing Sites Infrastructure Fund and package of support will help deliver locally-led developments in communities that want more growth and jobs in their area. It will also assist those areas with ideas for a new generation of garden cities, so they can turn their ambitions into reality.'
Photo: Cabinet Office