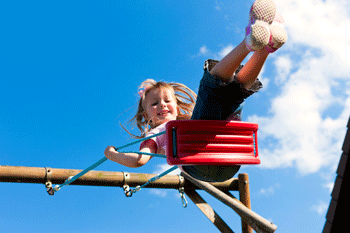 Parents are worried their children may soon have nowhere to play and want the government to provide more funding for facilities, according to a survey.
The Association of Play Industries has accused the Government of failing on its obligations under a United Nations charter which says children have a fundamental right to play.
More than half of parents in the poll said they were unhappy about the lack of high quality play facilities in their local area.
Nearly a quarter said their nearest playground was in a poor state and four in 10 feared that playgrounds in their local community could close down altogether.
Eight in ten thought there should be funding for more high quality public play facilities and investment in parks and green spaces for public recreation.
API chair Mark Hardy said the parents' concerns were 'a real wake-up call'.
'The strength of feeling amongst parents that government should be making children's play a priority is clear, particularly as we face a physical inactivity crisis that threatens to shorten our children's lives.' he said.
'Children have a fundamental right to play, as enshrined in Article 31 of the United Nations Convention on the Rights of the Child, and we believe the government is failing to honour its obligations.'