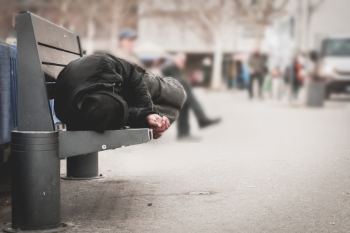 A new study has brought together examples of best practice from councils that have helped prevent homelessness amongst non-UK nationals.
Homeless Link's new report, Unlocking the door: A roadmap for supporting non-UK nationals facing homelessness in England, sets out the findings of studies from a number of local authorities.
The report highlights how delivering on commitments to end rough sleeping means taking account of the specific advice, language and cultural needs of non-UK nationals.
Drawing on its work with partner areas Bedford, Haringey and Manchester, the charity also found that multi-agency, person-centred support, facilitated by stable accommodation, quality immigration advice and a trauma-informed understanding of cultural and immigration backgrounds, delivered impressive success.
Jennie Corbett, senior policy advisor at Homeless Link, said: 'The challenges faced by non-UK nationals with immigration-based restrictions is arguably the most prominent issue our members raise with us. For many years, solutions to this have felt like missing pieces of the puzzle in national plans to end rough sleeping. Policy choices that allow immigration control to overshadow and undermine good social policy have compounded this, making it even harder for local homelessness systems to deliver the support we need.'
Community researchers from No Accommodation Network (NACCOM) were key to shaping the report's findings and recommendations.
Bridget Young, NACCOM director, said: 'Local authorities and national government should take note of these recommendations if they are serious about ending all forms of homelessness, including rough sleeping.
'We look forward to working with NACCOM members and volunteers, Homeless Link and other partners to use this report as a springboard for creating better local partnerships and for holding national and local government to account for what they could and should be doing to end homelessness and destitution.'