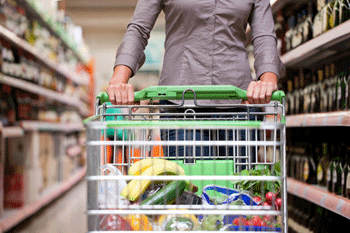 More people are seeking help from foodbanks than ever before, with over 900,000 individuals receiving emergency support in the last year.
Underemployment, high cost of living and welfare sanctions helped drive the 163% increase in foodbank use on the previous year, the country's largest foodbank charity the Trussell Trust has warned.
Figures suggest half of referrals to foodbanks in 2013/14 were a result of benefit delays or changes. Some 83% of foodbanks also reported benefits 'sanctioning' was the reason behind rising use of their services.
However, the Trussell Trust warned figures revealed only the 'tip of the iceberg' of UK poverty as findings did not include data from other emergency food providers.
'That 900,000 people have received three days' food from a foodbank, close to triple the numbers helped last year, is shocking in 21st century Britain,' Trussell Trust chairman, Chris Mould, said.
'A more thoughtful approach to the administration of the benefits regime and sanctions in particular, increasing the minimum wage, introducing the living wage and looking at other measures such as social tariffs for essentials like energy would help to address the problem of UK hunger.'
Oxfam's head of UK poverty programme, Racael Orr, said: 'The Government needs to provide adequate support to the poorest in society and urgently tackle the low incomes and rising bills that are leaving people hungry.'
Labour's shadow environment secretary, Maria Eagle, said: 'The vast increase in the number of households and families turning to foodbanks reveals the shocking truth of life under David Cameron's cost-of-living crisis.'
In a separate move, 600 church leaders and 40 Anglican Bishops have today written to the Government calling for urgent action to be taken on UK food poverty.
A Department for Work and Pensions spokesman said: 'We're spending £94bn a year on working age benefits so that the welfare system provides a safety net to millions of people who are on low incomes or unemployed so they can meet their basic needs.
'Even the Organisation for Economic Co-operation and Development say there are fewer people struggling with their food bills compared with a few years ago, benefit processing times are improving, and even the Trussell Trust's own research recognises the effect their marketing activity has on the growth of their business. The employment rate is the highest it's been for five years, and our reforms will improve the lives of some of the poorest families by promoting work and helping people to lift themselves out of poverty.'