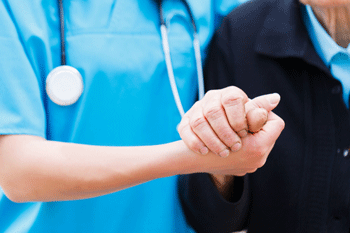 A new study of health and social care spending has found that the Government focuses too much on acute services rather than investing in long-term preventative measures.
The report, published by the Health Foundation, found that between 2015/16 and 2020/21 spending on the NHS is expected to have grown by 12% on a real term per head basis, compared with a 25% cut in the public health grant.
The health charity argues that the 'significant' spending reductions to the grant since 2010 means that the Government is 'storing up significant problems for the future'.
As part of its Industrial Strategy, Whitehall has set out to ensure people can enjoy 'at least five extra healthy, independent years of life by 2035, while narrowing the gap between the experience of the richest and poorest.'
However, the Health Foundation's analysis shows that if the Government continues to focus on short-term spending on treatment rather than long-term investment in prevention it would take 75 years to deliver this improvement.
'At a time when political energy is absorbed by Brexit, and with a one year spending round that will provide only a temporary sticking plaster, the longer-term issues that will shape the future health and prosperity of our nation are being overlooked,' said Jo Bibby, director of health at the Health Foundation.
'Despite the health secretary naming prevention of poor health as a top policy priority, our analysis shows that spending on prevention has been de-prioritised in recent years, with a failure to invest in people's health long-term.'
Ms Bibby also warned that the current approach to health and social care spending was widening health inequalities.
'Half of the people living in the most deprived circumstances in England are in poor health by the age of 59 – they experience poor health two decades earlier than people living in the least deprived areas. This has consequences for their ability to work and play an active role in their communities and family life,' she said.
'No Government should want to see inequalities widen on their watch. But this will be the consequence of continued under-investment in areas such as children's services, housing and social security all of which are vital in maintaining and improving people's health and wellbeing,' she continued.
'Bold political decisions are now required to create a healthier, more prosperous future for our nation.'
Among a number of recommendations, the charity calls on Whitehall to review the balance of health-promoting versus reactive spending across different areas of Government.
This should include, it emphasises, re-investment in the public health grant 'as an immediate priority'.
An analysis published in June by the Health Foundation calculated that the grant is now £850m lower in real-terms than initial allocations in 2015/16. They said £1bn per year would be needed to restore funding to 2015/16 levels.
Responding to the report, Cllr Ian Hudspeth, chairman of the Local Government Association's Community Wellbeing Board, said that people's lives were 'improved for the better by councils'.
'Everyone agrees that prevention is better than cure, but as this report highlights, reinvestment in the public health grant is needed to help people live longer, healthier lives and spend less time in hospital,' he said.
'Councils are already doing as much as they can to keep their communities healthy and active. The recent £3.5bn package for local government announced in the Spending Round for next year will help these efforts.
'What is also needed is a joined-up prevention approach across government, which will help councils tackle persistent problems like obesity, mental illness, substance misuse, sexually transmitted infections and the health impact of loneliness.' https://www.localgov.co.uk/Charities-call-for-1bn-a-year-to-reverse-public-health-cuts/47575