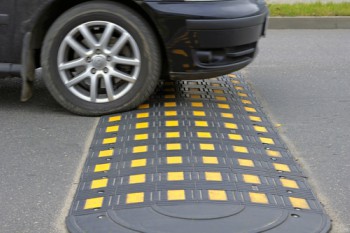 Three leading transport charities have criticised the Government's new air quality plan for encouraging councils to remove speed bumps.
In a joint letter to the environment secretary, Michael Gove, representatives from the Campaign for Better Transport, Living Streets and Cycling UK, said removing speed bumps would be 'at beast an expensive diversion from addressing air quality' and 'at worst a dangerous and retrograde measure'.
The Government published the details of its air quality plan last week, which will require local authorities to draw up local plans to cut nitrogen dioxide levels.
The plan included measures to remove traffic-calming measures, such as speed bumps.
'Local councils and the communities they serve have introduced speed control measures to make streets safer, particularly in areas around schools,' the letter states.
'It is not acceptable to reduce safety in order to improve air quality, nor is it necessary. Air pollution hotspots arise from high volumes of traffic on major routes, not traffic calmed neighbourhoods.
'Local authorities should be able to demonstrate that any proposed alternative to speed humps is at least as effective in controlling speeds, preventing injuries and fatalities and improving public health for people of all ages and abilities, including children and other non-drivers,' the letter adds.
The letter also criticised the air quality plan for giving low priority to charging clean air zones, and said councils should have the power to decide which solution will 'most effectively deliver clean air for their community'.
The government's proposed air quality plan has also been criticised by other figures and organisations.
The chair of the House of Commons' environmental audit committee, Mary Creagh, said: 'This plan passes the buck to councils to deal with diesel cars, lacks detail on how the government will replace ancient diesel buses and trains now electrification has been scrapped, and is silent on who will set and enforce air pollution targets after we leave the EU.'