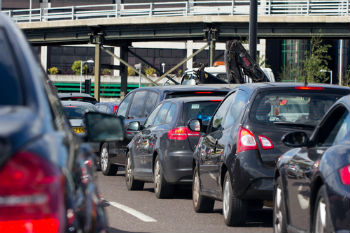 Critics of the Government's air quality plan has said it will 'fail' because it ignores the growing impact of congestion on pollution in city centres.
A new analysis has found a halving of average city traffic speeds leads to a 50% increase in harmful emissions from larger vehicles as they crawl along busy urban roads. In nose-to-tail traffic, NOx emissions are four times greater than they are in free flow traffic.
The analysis is part of the sustainable transport campaign Greener Journeys' submission to the Government for yesterday's National Clean Air Day.
Congestion in the UK's largest cities is 14% worse than five years ago, the campaigners found, and traffic speeds are forecast to fall by almost 5mph from 17mph to an average of 12mph by 2030, and significantly slower in peak hours.
Traffic delays are also set to almost double over the next decade, leading to an average delay of a minute and a half per mile on England's A roads.
Greener Journeys, who prepared the submission with Professor David Begg, the former chairman of the Government's Commission for Integrated Transport, warned it will be impossible to keep air pollution in check unless Whitehall takes 'meaningful steps' to improve falling urban traffic speeds.
The submission acknowledged ministers have recognised the link between congestion and pollution, but it says their plan focuses on removing speed humps and traffic light sequencing rather than reducing the number of vehicles on the road, which causes 75% of all delays.
It argues the only way to resolve the air quality crisis is to reduce vehicle numbers and free up alternative forms of transport such as buses.
'Congestion has a direct and severe impact on air pollution,' Claire Haigh, chief executive of Greener Journeys.
'The Government's plans must tackle congestion and encourage greater use of sustainable transport modes such as the bus, which can take 75 cars off the road reducing both pollution and congestion.'
'The Government's current plans fall short of what is needed to tackle air pollution,' said Professor Begg.
'Policies should focus on easing congestion, increasing support for upgrading public transport such as buses, and more action to crack down on the biggest polluters on the road – diesel cars.
'The congestion problem is not going to go away on its own. The growth in online shopping means the proportion of vans on the road continues to increase, and unlike cars these vehicles don't simply go away when traffic jams get too severe.
'Unless action is taken, urban traffic speeds will continue to fall until they reach walking pace.'