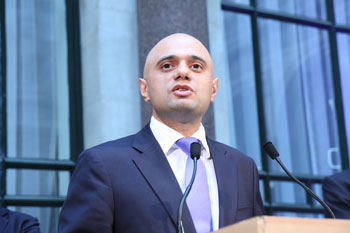 More than £250m in funding will be made available to provide infrastructure for thousands of homes, the chancellor has said, in a move condemned as a pre-election 'publicity stunt'.
The funding, from the Housing Infrastructure Fund, will pay for roads, schools, public transport and utilities in seven places across the Midlands, the East of England and South East.
The Government estimates it will 'unlock' over 20,000 homes.
'When I was housing secretary I set this fund up to help ensure homes can be built in areas that need it the most, and enable people to live where they want,' said Mr Javid.
'I have now launched an infrastructure revolution and this step-change in funding will ensure that all parts of the country benefit as we level-up opportunities.
'This £250m will increase the number of houses available to buy and help support people to achieve their dream of home ownership.'
John McDonnell, Labour's shadow chancellor, described the announcement as 'pathetic'.
'After nearly a decade of starving our country of the infrastructure investment it needs, the Tories have come up with this pathetic publicity stunt announcement,' he said.
'When there are millions of people on our housing waiting lists and families with children living in containers, we need real change and real investment in our infrastructure, not this derisory drop in the ocean.'